A Perfect Road Trip to San Antonio
This post may contain affiliate links. Please see full disclosure here.

I love road trips! Who doesn't? Actually, I know a few people (my husband) that don't so there's that.
Let me say again, I love road trips! I love getting up early and being on the road before anyone else! The sky is still dark and the birds are chirping outside.
I looove to plan things. I like to be prepared when going somewhere new. There is always an excel document involved. A different tab for cool things to see along the highway, activities, hotel info, and most important, restaurants! I will enjoy weeks of restaurant research just to find the best hole-in-the-wall restaurant with the best food or the coolest "must visit" item featured on a travel or food tv show. This is where my previous obsession with Man vs. Food (MvF) paid off. On a particular episode, Adam toured some yummy restaurants in TX. This inspired my April 2013 trip to San Antonio.
I called my bro and said, "hey, let's have a road trip!" Two words, 'margaritas and BBQ' and he said, "when do we leave?"
We woke up early, stopped for an egg bagel, and headed south. First official road trip stop; Round Rock donuts.
It wouldn't be a TX highway without construction and where there's construction, there's no exit or way around an accident. The freeway was shut-down for at least 45 minutes. Most of the inhabitants of the cars around us were getting out and stretching their legs so we joined. While talking to a group of Harley-riders, we learned that the van involved in the crash originally had a mom and her 4 kids in it. Once it stalled, construction workers rushed over to help get everyone out of danger all about 10 minutes before it was the scene of another crash that was actually avoidable. Another classic case of someone not paying attention…
Donuts the size of your head!
Once the wreck was cleared, we were freeee! We continued straight to Round Rock hoping the donut shop was still open and had the famous donut we had waited hours to see. As we navigated narrow streets and small parking lots, we noticed other donut lovers had formed a line outside the door. The heavenly smells of deep-fried goodness filled the air outside and my mouth was instantly watering.
We joined the conga line and to our surprise it didn't take long to make our way into the building. We couldn't help but giggle at the sweet indecisive kid in front of us and his dad trying to explain to him that he will not be able to eat 14 donuts. We ordered the famous large sugary gluten confection, a few others, and paid the man. We found a seat outside at an empty table and prepared ourselves for the unveiling. I opened that large box and couldn't stop laughing at seriously how big that donut was in person.
A donut the size of my head? Duh, yes, I want to take a picture with it! We tore pieces off the gigantic donut, put it back in its box, and ate our normal sized donuts (which were equally as scrumptious). Stomachs satisfied, we got in the truck and headed towards San Antonio.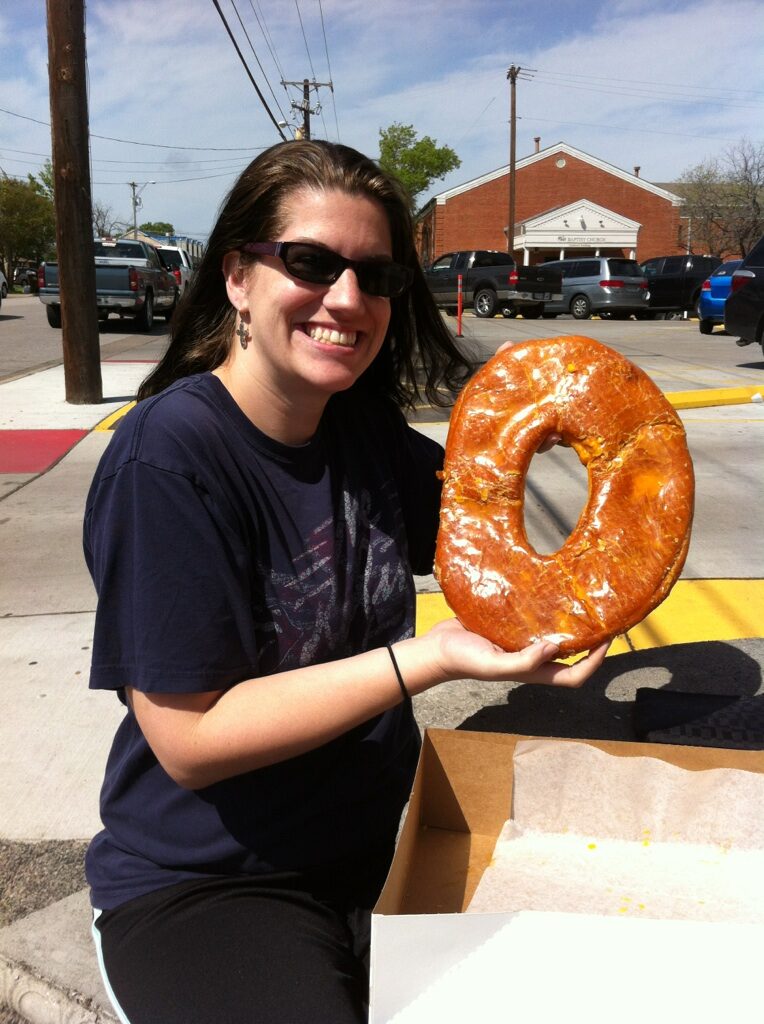 Shopping at Historic Market Square
We drove straight to San Antonio's Historic Market Square (El Mercado) to do some shopping and see what all the TripAdvisor hub-bub was about a certain restaurant, Mi Tierra Café and Bakery. Across from the small shops and intermixed with temporary vendors was a stage and a wooden stand you would expect to see at a state fair selling beers.